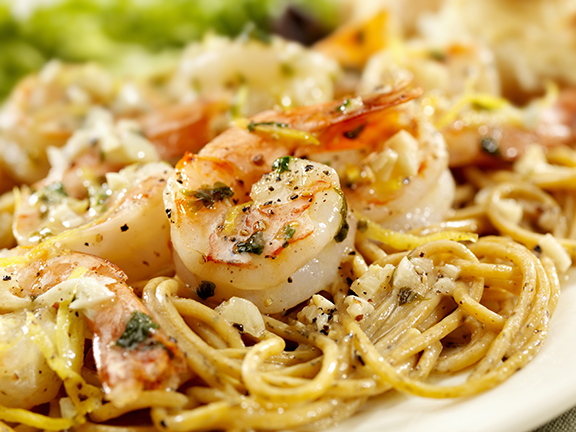 Ingredients:
1 pound BOS"N Ready to Cook shrimp

¾ cup butter (1 ½ stick)

4-6 large garlic cloves, finely minced

¼ cup white wine

2 tablespoons fresh lemon juice

3 tablespoons chopped fresh parsley

Salt and pepper to taste

Additional lemon wedges for garnish

12oz angel hair or linguine pasts, cooked according to package directions
Instructions:
Thaw BOS"N shrimp in the fridge overnight or by running them under cold water.
Preheat oven to 400 degrees. Bring water for pasta to a boil and begin cooking the pasta.
Place the butter in a 13 x 19 x 2" glass baking dish and place in oven until butter melts. Remove from oven and add the shrimp, garlic, wine and lemon juice to the melted butter, stirring to blend well.
Return dish to oven and bake shrimp for 3 minutes; then mix in the parsley and bake until shrimp are cooked through. Season with salt and pepper.
Mound the hot cooked linguine in a large serving bowl. Spoon shrimp mixture over and toss gently to combine. Sprinkle parmesan cheese and serve immediately with lemon wedges. Enjoy!