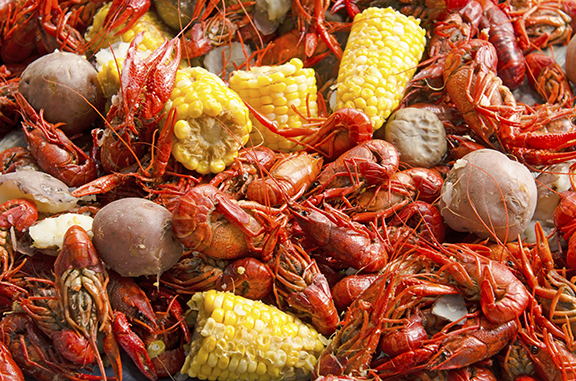 Ingredients:
2 boxes Foods From The Sea Crawfish

1/2 tablespoon whole black peppercorns

1/2 tablespoon whole coriander seeds

1 tablespoons whole cloves

1 tablespoons whole allspice

2.5 gallons water

6oz kosher salt

1 tablespoons cayenne pepper

1 tablespoons garlic powder

1 tablespoons paprika

1/2 tablespoon onion powder

1/2 tablespoon dried thyme

1/2 tablespoon dried oregano

1/2tablespoon dry mustard

1/2 tablespoon dried dill weed

3 bay leaves, crumbled

1 pound small red potatoes, cut in 1/2

4 ears corn, halved

1 heads garlic, unpeeled, but separated

1/2 pound sausage, cut into 1-inch pieces
Instructions:
Place the peppercorns, coriander, clove, and allspice into a spice grinder and grind for 10 to 15 seconds.
Fill a 20-quart pot with 2.5 gallons of water and add the freshly ground spices, salt, cayenne pepper, garlic powder, paprika, onion powder, thyme, oregano, dry mustard, dill weed, and bay leaves. Cover and bring to a boil over high heat, approximately 20 minutes.
Once the seasoned water comes to a boil, add the potatoes, corn, garlic, and sausage. Cover and cook for 10 minutes.
Add the crawfish, cover, and cook for 3 minutes. Turn off the heat and allow the pot to sit, covered, for 10 minutes. Drain well and serve immediately.
Enjoy!
*Recipe based on Alton Brown, 2009