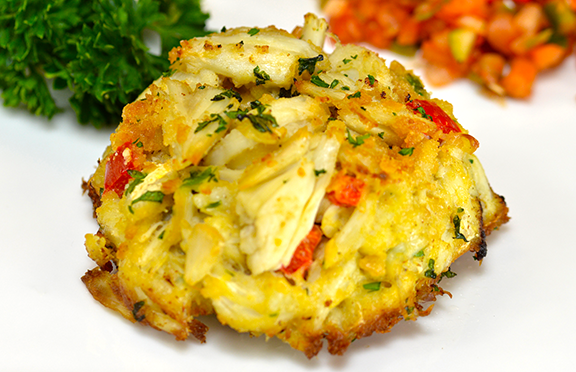 Ingredients:
1 lb Boston Pride Lump crabmeat

1 large egg

2-1/2 tablespoons mayonnaise

1-1/2 teaspoons Dijon mustard

1 teaspoon Worcestershire sauce

1 teaspoon Old Bay seasoning

1/4 teaspoon salt

1/4 cup finely diced celery

2 tablespoons finely chopped parsley

1/2 cup panko

Vegetable oil
Instructions:
Combine the egg, mayonnaise, Dijon mustard, Worcestershire, Old Bay, salt, celery, and parsley in a large bowl and mix well. Add the Boston Pride lump crabmeat and panko; gently fold mixture together until just combined, being careful not to shred the crab meat. Shape into 6 crab cakes (about ½ cup each) and place on prepared baking sheet. Cover and refrigerate for at least 1 hour.
Preheat a large nonstick pan to medium heat and coat with canola oil. When oil is hot, place crab cakes in pan and cook until golden brown, about 3-5 minutes per side. Be careful as oil may splatter. Serve immediately with tartar sauce or a squeeze of lemon.
Enjoy!