Marinated Grilled Octopus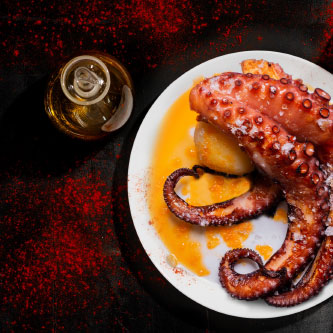 Ingredients:
2 T Neutral Flavored Oil

¼ Cup Minced Onion

2 large Cloves Minced Garlic                                 

8oz Tomato Sauce

2 T Tomato Paste

¼ Cup Sugar       

2 T Apple Cider Vinegar

½ tsp Chili Powder

1 tsp Smoked Paprika

Salt and Pepper to taste
Instructions:
Sauté oil, onion, and garlic in pan until onion are translucent and garlic is fragrant. Add all other ingredients except octopus and simmer gently over low heat for 10 – 12 mins stirring often. Cool completely and Blend until smooth. 
Marinate 1 PACKAGE STAVIS COOKED OCTOPUS in ¼ Cup Marinade for 20 minutes. Grill on Med High 3-4 mins per side until heated through. Brush with excess marinade for every flip.
Serve with a simple tomato salad and warm crusty bread.