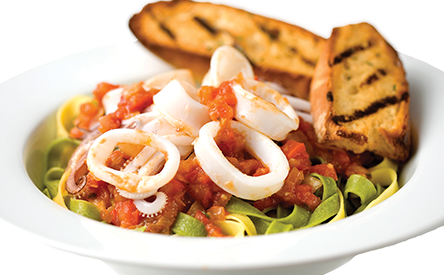 Ingredients:
1 lb linguine
1 (16-ounce) jar of marinara sauce
2.5 lb BOS'N Squid (any size/form)
1/4 cup fresh basil
1/2 cup white wine
2 tablespoons butter
1/2 teaspoon crushed red pepper flakes
3 cloves garlic
1/4 teaspoon salt
1/2 cup diced onion
1/2 teaspoon pepper
Instructions:
Cook linguine according to package directions.
Melt butter in a large skillet over medium-high heat. Add garlic and onion; sauté 3 minutes or until tender and lightly browned. Add calamari rings and tentacles and cook for 2 minutes. Add wine, marinara, basil, pepper flakes, salt and pepper. Bring to a boil, reduce heat and simmer, uncovered for 3 – 5 minutes.
Transfer linguine to a serving platter. Spoon calamari marinara sauce over linguine.
Enjoy!